Sasha is sitting in a Britax Cruiser. This seat was discontinued in 2000 I believe. The DOM on this particular seat is 5/2000. It is rated for children between 30 and 60 lbs. The back on the Cruiser is relatively low, so while it fits my two children, at 47 inches Sasha has very little growing room it. I got this booster in case Toby ever needed to be transported by someone else. It is made entirely of EPS foam so is very light and the design makes it easy to use.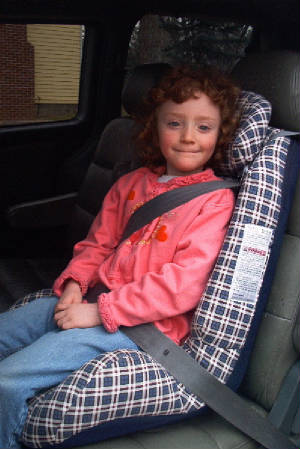 Here are some pictures of another discontinued booster, the Fisher Price Safe Embrace. This boosters is great for fitting into tight places, I have it here between two other boosters. It is rated for children between 30 lbs and 80 lbs and between 37 and 55 inches tall. While Sasha fits this booster fine, my son Toby, even though at 42 inches tall and 34 lbs is within the states height and weight ranges, this booster does not fit him well, as the lap belt rides too high on his tummy. The lap belt on Sasha, at 47 inches tall and 45 lbs, is fine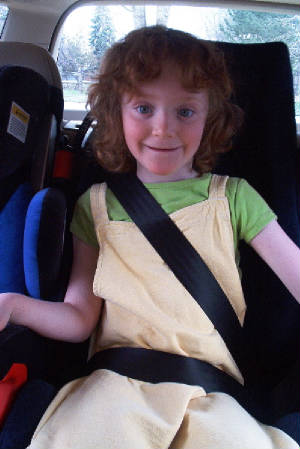 Sasha in the Fisher Price Safe Embrace booster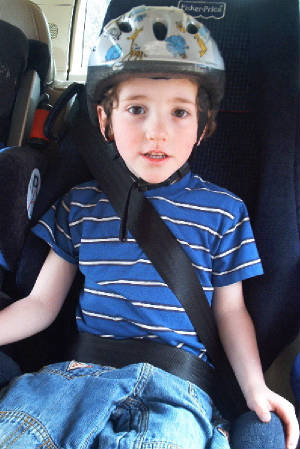 Toby in the FPSE-b. He was riding his bike at the time which is why he is wearing his bike helmet!
Pictured below is Sasha sitting in a Cosco High Rise low back booster in our Volvo station wagon. Maybe I am being picky but I am not totally comfortable with how the shoulder belt is sitting on her shoulder. The High Rise no longer comes with the shoulder belt strap, and I wonder if this might have helped with the positioning.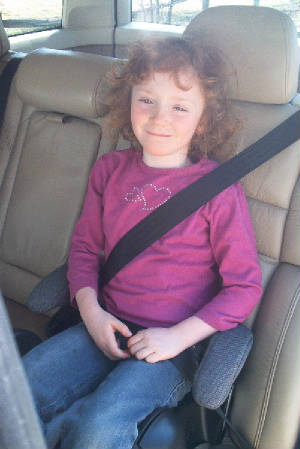 Sasha in a Cosco High Rise low back booster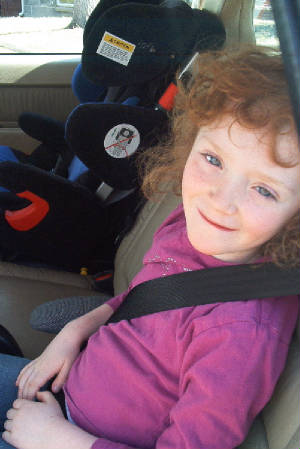 Close up of the should belt position in the High Rise booster.