The Compass B500 is a new booster with several neat features. It folds which makes it a great booster for traveling. The B500 is a very cushy booster and features a nicely contoured base. It has flip up armrests for easier buckling and EPS foam for extra safety. The B500 adjusts in such a way that the back stays enclosed which is also a plus. However, it has a short back and I doubt it would last a child until they reach 57".
Toby in the Compass B500. I am not entirely happy with how the shoulder belt fits him in this booster. It seems to be cutting into his neck and looks like it would be uncomfortable.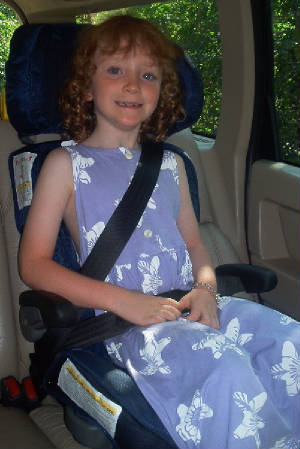 Here is Sasha in the B500. She is around 48 inches tall but is already at the highest back setting. This booster while it fits her now gives her very little growing room and there is no way it would take her to 57 inches as the manufacturer claims.